I love gardening and have planted forsythia along our tree line. The Yellow announces spring.  
Tall centerpieces make a dramatic statement. Forsythia is perfect for height and by using bulk material, the effect is fabulous.  With every program, my task is to design the most fantastic event possible within the budget. As a result of the responsibility of managing budgets, I am also a very practical designer. Tall huge centerpieces can very quickly absorb a great deal of budget.  Mixing smaller floral arrangements or lanterns and candle elements is a contrast to very tall items and enhances the over design with a positive effect on the budget. If flowers are "your thing" before we get started designing a program, allocate more budget here.  
My first thought when designing centerpieces is Color and how I will use it – overtly in the centerpiece or subtly.  The second thing I think about is shape. What vase will I use? How tall? Do I want a full arrangement? Then a trumpet vase with its expanding bell is a great choice.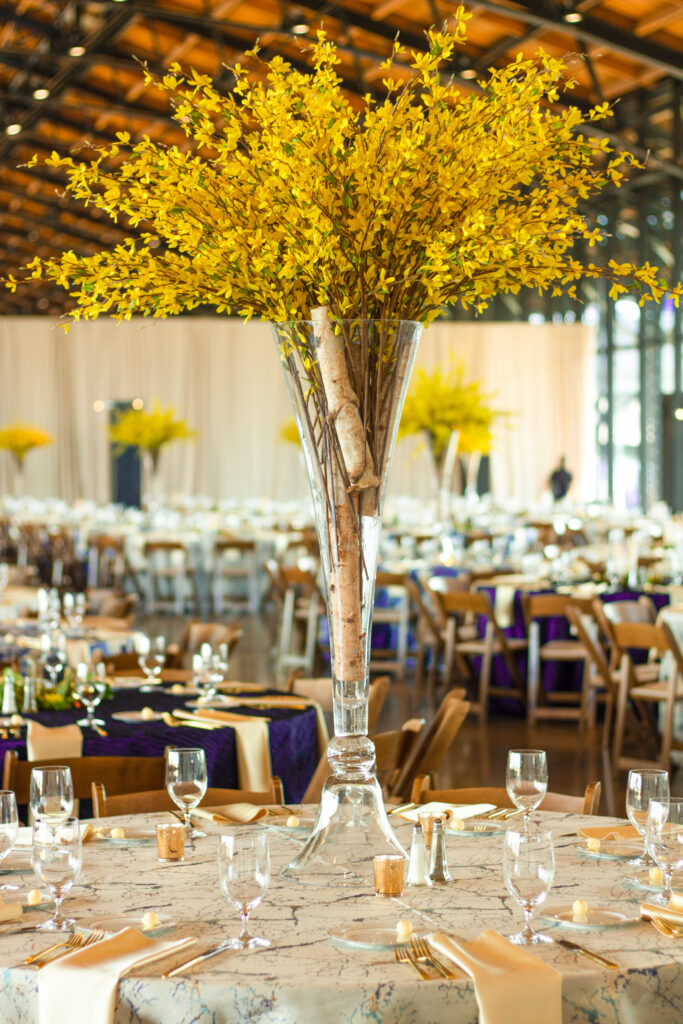 At the Train Shed in Richmond Virginia, about 50% of the tables included these eye-popping 4-foot tall forsythia designs complemented and contrasted by a smaller lower centerpiece.  The contrasting centerpiece can be as simple as Votive Candle Holders sitting on greenery, Lanterns with Candles, various other lovely candle elements, or a floating bowl arrangement.  Here are some examples of none floral centerpieces that provide interesting shapes and textures in contrast to a show-stopping tall, dramatic centerpiece.
For all your outdoor event needs call Weddings by Ted. We have colorful cafe tables and chairs, event decorating for safe distancing, stage rentals for galas, fundraisers, ceremonies and concerts. If you need help planning with your next event give us a call today at 804-358-5451.
Call Us Today!
For all your wedding planning, wedding rentals, event planning, event rentals, party rentals and more, we're here to help! Call us at 804-358-5451